About Us
We forged Firebrand in 2012 in a converted milking parlour on the untamed edge of Bodmin Moor, North Cornwall. The idea was born from our passion for beer made from all-natural ingredients, Cornish spring water, and American hops.
We brew beer that we love to drink and pride ourselves on our craft. Whether it's a Hazy Vegan IPA or a Barrel Aged Imperial Stout, we regularly refine and tweak our recipes to brew the best beer we can. Our core range includes our flagship beer – Patchwork Rocket Pale – and covers all our favourite styles and flavours; so Go Beyond The Usual and treat your taste buds to something new.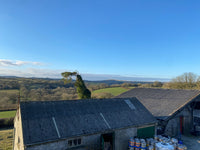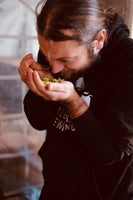 Cornish and proud. Our logo is a chough – the national symbol of Cornwall – perched inside the milking parlour where it all began. Every can, pump clip, t-shirt, and pint glass reminds us of home.
We recently moved from the farm to a large industrial unit just a few miles away in Launceston, the old Cornish capital, where we hope to spread our wings and grow into one of the UK's top breweries.
The new space is packed full of new equipment which allows us to brew more and make our beer taste even better. It also includes a taproom that overlooks the brewery and a shop loaded with the good stuff. We see our new home as a place for the community to gather, drink, and eat – we love hosting events so follow us on our social media for regular updates on what food, music ,tastings and tours we've got coming up.